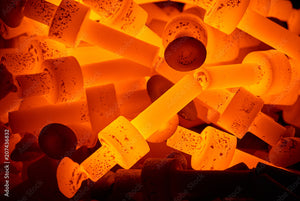 Heat treating in-house
Time, money and control. Those are three critical elements for any successful manufacturer of precision metal parts. Bringing the heat treatment process in-house by purchasing an appropriately sized furnace or oven benefits part manufacturers in all three.
Which one is most important depends on whom you ask. "I would say that a lot of our customers are starting from the perspective of managing the turnaround time to heat-treat their parts first and foremost," said Robert Hauser, sales manager at Lucifer Furnaces Inc., Warrington, Pennsylvania. "For larger operations, managing cost becomes an equally important issue."
He added that typical turnaround time can be as long as two to three weeks when sending parts to a commercial heat-treat company. In contrast, a job shop could heat-treat a small part in as little as 15 minutes in-house if it has the right equipment.

The KMTG-27 fire box furnace from Knights is equipped with a guillotine-style door. Image courtesy of Knights 
David Harrell, account manager at Knights Corp., Bentonville, Arkansas, which offers Dragon Fire heat-treat furnaces, indicated time and cost as the two biggest benefits for machine shops that perform heat treating in-house. "The third parties, costwise, are going to charge minimums," he said. "If you just have one or two pieces, they are going to charge an extra $150 to $200 as a minimum."
Gaining more control of the heat-treat process tops the list for buyers of Grieve Corp.'s furnaces and ovens, according to Yuriy Pospelov, national sales manager at the Round Lake, Illinois, company. "They have more control as they bring heat treating in-house, and they can do it whenever they want," he said.
---