About Us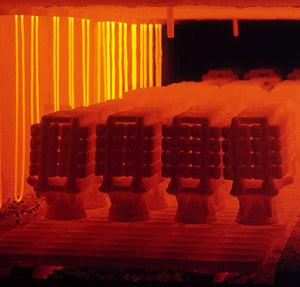 Knights Dragon Fire Furnace
Knights Furnace heat treat furnaces are made in the USA and are sold all over the world. Our furnaces are used internationally in general machine shops, tool and die production, plastic mold making shops, and many different fabrication processes where heat treating or ovens are needed.
What is heat treating?
 Heat treating is used to alter the composition of metal of long-wearing quality and is a vital part of many manufacturing processes. Precision and accuracy are essential to the success of quality heat treatment solutions. With over 60 years of furnace sales, we understand the variety of heat treatment needs of our customers. We offer an assortment of furnace sizes and parts, and can even manufacture a custom furnace to meet your specific needs.
 About Knights Furnace
Knights Furnace was founded by Bill Knight in 1972, when Bill noticed a trend among his customers. At the time, he was selling a variety of metal working and precision gauging products. He recognized that many of his customers needed heat treating service and were outsourcing that process to a third party. Bill identified a niche market, realizing that he could equip his customers to bring heat treating in-house and save time and money, creating a win-win for himself and his customers.
Today, Knights Furnace continues to offer machinery and metal working equipment, but heat treating furnaces has become the core of our business operations. Knights Furnace specializes in the manufacturing and sales of heat treating furnaces and equipment, helping companies save time and money by doing heat treating in-house.